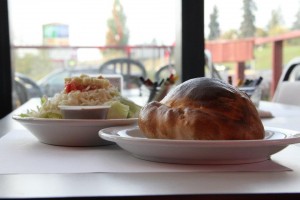 Before 1988, you had few, if any, options available to you if you wanted to enjoy a delicious calzone in Pullman. From day 1, Sella's has been the calzone, pizza, pasta destination in Pullman. Its casual and inviting atmosphere welcomes you and makes you feel at home. You can come in and enjoy a meal made to order while coloring, in hopes your art makes it the wall or just for fun. Sella's also has a nice bigscreen tv to watch the game on. Go Cougs!
Some things have changed over the years, but the welcoming feeling and yummy food is still there. The prices are affordable and the menu even has gluten free options. Sella's also makes sure to offer several options for beer on tap, which many a patron can be found enjoying on a Friday night.
I will continue to make Sella's a regular stop in my food routine, and I hope you do, too.